June

Roni Barron

Carlotta Lynn Brandenburg

Cynthia Crull

Jean Ehlers

Diane Grayson

Pat Hopgood

Norma Kurr

Sandy Mazzurco

Sharon Melpolder

Geo Mickelson

Sherry Mundt

Kay Wentworth

_ _ _ _ _ _ _ _ _ _ _ _

Please bring a wrapped gift
suitable for a quilter, with a value
of at least $10.00 to the next
meeting . A good rule of thumb
for the gift is something that you
would really like to receive
yourself. If you missed your
birthday month, you can bring
your gift at a later meeting.


___________
Pam Calhoon and Melodie Moreno
Birthday Drawing Committee

June

Judy Eppler

Catherine Ericsen

Sandy Evans

Vera Flores

Donna Floyd

Betty Foley

Darlene Gatewood

Arlene Gordon

Diane Grayson

Marti Harbour

_ _ _ _ _ _ _ _ _ _

We encourage you to bring healthy refreshments. We look forward to working with Thumb Butte Quilters this year.

Hostess's should arrive by
8:30 a.m. to assist chairperson in
setting up if needed. Bring a refreshment item; such as finger
food- cheese, crackers, sweet treats, fruit, etc. Please bring your goodies on disposable trays or label your dish with your name. Beverages and paper products are provided by the Guild.




____________________
Kathleen Bond & Carolyn Edwards
Refreshment Committee

The Opportunity Quilt will be raffled off at the TBQ Quilt Show on
June 3rd at the end of the show. If you haven't already got
your tickets, hurry up and do so! Someone is going to be
a very happy person on June 3rd.
_______________________
Sandy Evans & Susan Opdahl
Ways and Means Chair
.

Stop by the mentor's table before the meeting or at break time. I will be sharing tips on a few of my favorite and useful quilting tools and gadgets.

_______________
Susan Joy Noyes
Mentors

Company Store is up and running. Come take a look!
______________________
Joan McGivern /Carol Brownlow/Carol Peters/Pam Jones
Company Store Co-Chairs
Reimbursement Form - for committee members that need to be reimbursed for purchases made for the guild
Quilt Show Registration Forms for 2017

Shirley Smith did a trunk show for us of her amazing quilts.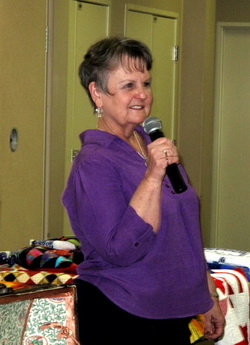 Click here to see Shirley's Trunk Show
____________________________
Charlotta Brandenburg & Laura Davis
Workshop Chairmen

Click here to see the current exhibit.
Greetings, Everyone! We are celebrating Summer at the Adult Center! Woohoo! The yellow quilts are coming down on May 24th, and the patriotic quilts are going up! And it's a grand ol' collection! Three cheers for the red, white, and blue! Big, big THANK YOU's go to Janet Bailey, Cheryl Giovenco, Arlene Gordon, Jane Holland, Barbara Merkel, Sandy Mitchell, Paula Pilcher, Shirlee Smith and Sue Weishaupt for sharing their patriotic quilts. Four of the quilts, we've seen before, but with them hanging out with six new friends, you probably won't even notice! And WOW!, two quilts are shared by brand new members--Janet and Cheryl! We love that you are jumping right into our activities! And when you stop to see the quilts at 1280 Rosser Street, check out Arlene Gordon's two quilts--they are FOR SALE! It's such a great collection, you will want to stop and salute!

Remember, there is always a Quilt Show of TEN quilts going on at the Adult Center. Tell all your friends, and take your summer visitors there!

And because you need to know for future displays, quilt sizes needed are:
LARGE: from 60" to 90" wide, any length. (Need SIX.)
SMALL: from 45" to 60" wide, any length. (Need FOUR.)

If you have theme ideas for quilt displays at the Adult Center, give me a buzz!


____________________________________
Quilts For Sale!
We've mentioned more than once that visitors to the Adult Center have asked if any of the quilts were for sale. President Pat mentioned at the January meeting that works were under way to offer TBQ members' quilts for sale. If you are at all interested in selling any of your quilts, here's the deal. We don't have all the details finalized yet, but you need to be thinking about if you have any quilts for sale. A form will be placed on the website with the other 'forms'. You will need to attach a photograph. More details to follow...


_____________________
Carolyn Edwards
Community Center Quilt Coordinator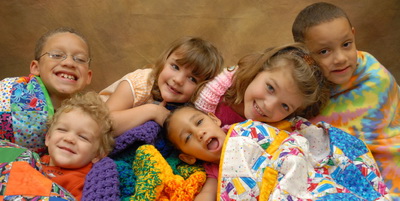 Handmade Hugs
Just a quick note to let you know we will not be having a Handmade Hugs Workshop this month. If you have any finished quilts or pillowcases, please bring them to the Handmade Hugs Vignette at the Quilt Show. (If possible, on Thursday during setup.)
We will be selling pillowcases and the proceeds will go into the Community Service budget. I know you are busy getting your quilts ready for the show; so, any finished quilts or pillowcases are truly appreciated.
Thank you so much for your participation in this worthy project.
See you at the Quilt Show!
Maryann Conner
Community Service
P.S. Please send any related emails to me at handmadehugs@cableone.net
_________________________
Maryann Conner
Community Service Chairman